How We're Helping Seniors During COVID-19
March 19, 2021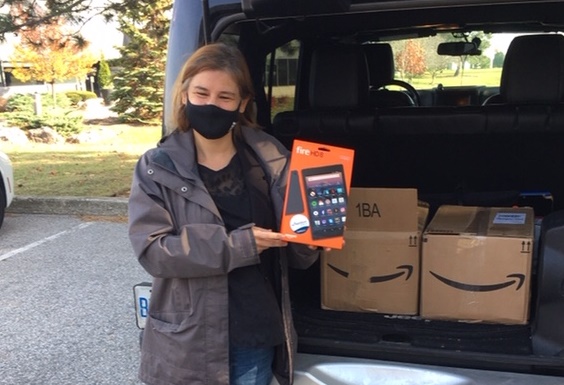 How We're Helping Seniors During COVID-19
With your generous support, the Bayshore Foundation is making a difference
Over the past year, everyone has felt the impact of the global pandemic, but seniors are among the most heavily affected. They are more likely than younger adults to become seriously ill if they catch COVID-19, and Canadians have seen the tragic consequences of outbreaks in long-term-care facilities.
Physical distancing has been vital for preventing the coronavirus from spreading, but it has also isolated many older adults in their homes or care facilities. Senior loneliness was already a major public-health concern prior to the pandemic, especially for the quarter of Canadian seniors who live alone. Stay-at-home orders have further limited seniors' contact with the outside world, including family, friends, caregivers, community members and support programs.
Loneliness harms seniors' health
The health effects of social isolation and loneliness are well documented. They have been linked to poor physical and mental health, and they are major risk factors for high blood pressure, heart disease, stroke, obesity, weakened immunity, anxiety, depression, decreased cognitive function and dementia. Last July, an article in the journal Frontiers in Public Health noted that social isolation and "low social connectivity" are as detrimental as being obese or smoking 15 cigarettes a day.
Seniors experience loneliness for many reasons, including changes in physical health, changing roles (retirement, caring for a spouse) and loss of social contacts (friends and relatives passing away or moving away). Older adults may also be isolated by lack of transportation, financial difficulties or ageism.
Taking care of our seniors
Here are five ways that the Bayshore Foundation is supporting seniors during the pandemic:
Amazon Fire Tablets
In October, Bayshore HealthCare partnered with Amazon to donate 1,000 Fire HD 8 tablets, through the Bayshore Foundation, to help support isolated seniors during the pandemic. The tablets were delivered to a number of charitable community organizations, including University Health Network, Cyber-Seniors, the Alzheimer Society of Peel and two Ottawa retirement homes.
The donations have made a positive impact, our partners report. "Those tablets have gone to some very needy seniors who are now able to stay connected," says Brenda Rusnak, Managing Director of Cyber-Seniors. Meanwhile, at Community Home Support – Lanark County, Client Services Coordinator Suzanne Bourbonnais says, "The clients are thrilled with the tablets. Our staff and volunteers have been able to host support groups, and clients do feel more connected."
Lisa Benedikt, Fund Development Officer at Alzheimer Society of Peel, also shared good news: "With the gracious donation of 75 Amazon Fire tablets from the Bayshore Foundation, [we're] able to deliver virtual programming to an additional 75 lower-income seniors living with dementia," she says. "We are grateful for the tablets as they have been instrumental in connecting our most vulnerable seniors with community support and meaningful programs. …   To date, we have provided 247,406 staff-led virtual programming minutes to over 12,052 members."
UHN Open Lab
The Bayshore Foundation also financially supported the UHN Open Lab Friendly Neighbour Hotline, a program that matches community volunteers with isolated seniors to help with grocery shopping and delivery.
Community Home Support – Lanark County
The Bayshore Foundation donated funds to support the Meals on Wheels program operated by Community Home Support – Lanark County. The organization delivers meals to seniors with physical disabilities in Lanark County, Ontario.
Shoreline
This is a new program that the Bayshore Foundation is piloting with the support of Volunteer Canada. Shoreline is a free telephone service, with Bayshore employees volunteering to call isolated seniors and caregivers to offer friendly check-ins.
Food banks
Food banks have seen a sharp increase in usage during the pandemic. Food security is especially challenging for vulnerable seniors. Our offices in the Greater Toronto Area, Markham and Sudbury are raising funds for three Ontario food banks with seniors' programs, including Eden Food for Change in Mississauga, Food Bank of York Region and Blue Door Soup Kitchen in Sudbury.
The Bayshore Foundation thanks all of the generous donors and donors who have made these initiatives possible. Together, we will continue to support vulnerable older adults.
The Bayshore Foundation for Empowered Living funds initiatives that address the barriers preventing people who are living with illness, injury or aging from living independently.