Hospice Palliative Care: Empowered Living Until the End of Life
June 9, 2021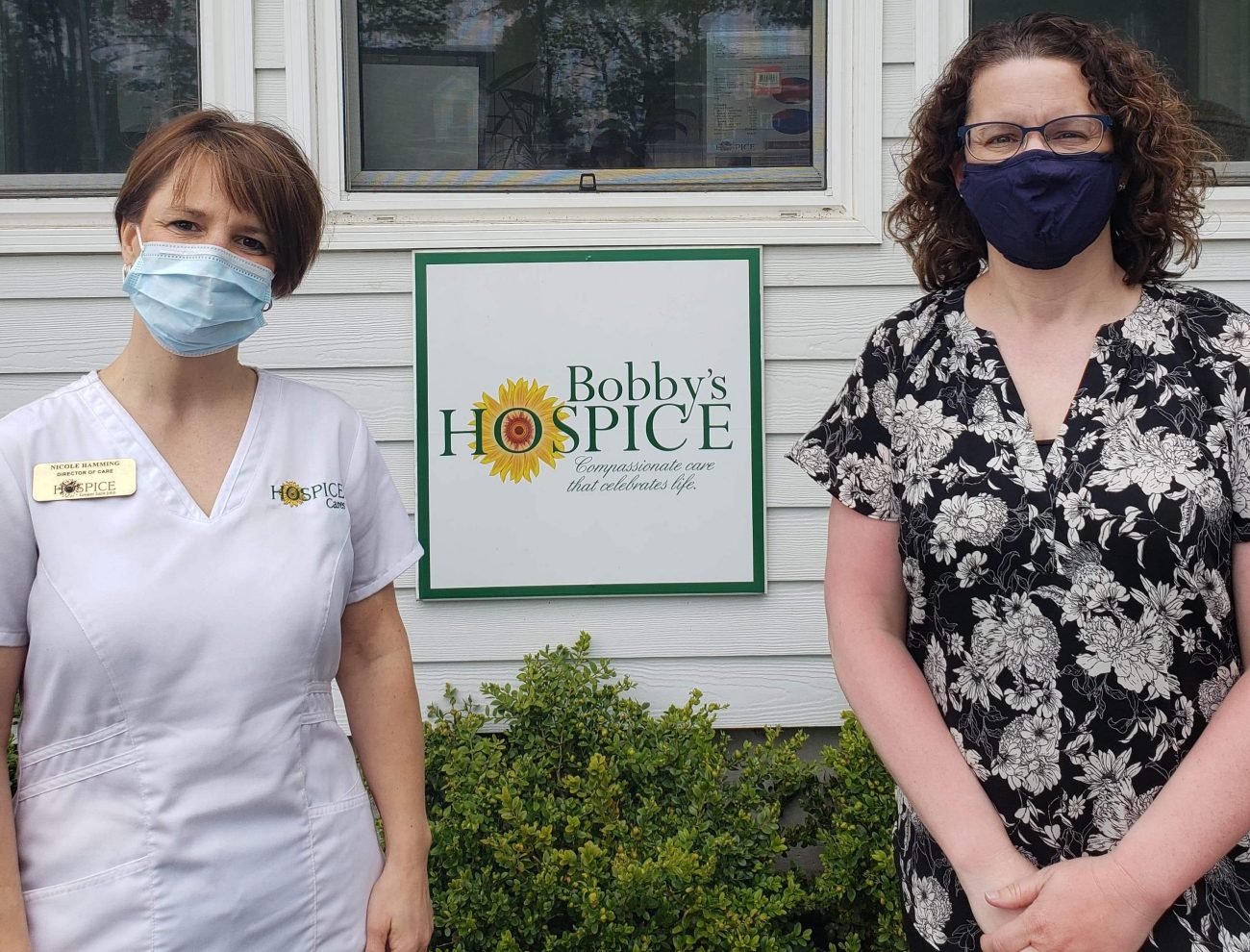 Photo: Nicole Hamming, Director of Care at the Hospice and Tina Learmonth, Area Director, Bayshore Home Care Solutions – Outside Bobby's Hospice in Saint John, New Brunswick.
Palliative care, also called end-of-life care, is a specialized type of health care for people who have a life-limiting illness. By focusing on quality of life rather than aggressive medical treatment, palliative care empowers patients to spend their final months or weeks in comfort; to feel supported physically, emotionally and spiritually; and to die with dignity. Palliative care also provides much-needed support to family members, allowing them to spend time with their loved ones without the stress and physical strain of caregiving.
Palliative care is provided in hospitals, long-term care facilities and patients' homes. In several communities across Canada, patients have an additional option: hospice care. Hospices are small facilities – typically no more than 10 beds – staffed with specially trained health professionals. For people approaching the end of life, hospices offer a vital home away from home – one that minimizes suffering and celebrates life. Hospice care espouses the idea of a "good death," or "dying well," by taking a holistic approach that treats the person rather than the disease.
Depending on the province, patients may be referred to hospices by health agencies and/or physicians. Patients and families usually do not have to pay for hospice care, except for medications. Most hospices are non-for-profit charities that receive part of their funding from provincial health authorities; the rest comes from donations. Through the Bayshore Foundation for Empowered Living, Bayshore HealthCare donates to several hospices in British Columbia, Ontario and New Brunswick, contributing funds raised by our employees. Many of our branches have embraced hospices as community partners and as charitable causes.
"It's important to support people at the end of life, and for them to have their own journey to the end. What's more empowering than that?" says Tina Learmonth, Area Director of Bayshore's New Brunswick branches and a long-time champion of hospice care. The branches support hospices in Saint John, Moncton and Fredericton. Employees donate through payroll deductions, fundraising walks (held virtually during the pandemic) and other initiatives. The Bayshore Foundation matches donations by 50%.
Learmonth recalls what it was like to learn about hospice palliative care. At first, the subject made her nervous. "I thought, 'What do you mean, it's all about dying?'" she says. "But I quickly realized that hospice care is about life, and about living life to the fullest."
What does that look like? At Bobby's Hospice, the 10-bed facility in Saint John where Learmonth served as a board member for 10 years, it depends on the individual and whatever brings them happiness. The staff regularly go above and beyond to fulfill patients' wishes. "They once had a 'living funeral' for a patient, and hundreds of people showed up. They've held a prom. They've even had an Elvis impersonator perform for a young man who was a huge fan," says Learmonth.
Equally meaningful is the time that patients spend with family and friends. "Hospice is a place where, when the hockey game's on, four brothers can crowd around dad's bed, and the dog is on the bed, too," says Learmonth. "There are beds for family members. There's a children's room, and kids are encouraged to visit. It's really like home."
The hospice was established in 1983. Initially, volunteers supported patients at their homes. Later, the hospice added grief support services, a day program, education and nurse visits. In 2010, after years of planning and fundraising, Bobby's Hospice – named in memory of volunteer Catherine "Bobby" Lawson – opened its doors as the first residential hospice in Atlantic Canada.
Nicole Hamming is Director of Care at Hospice Greater Saint John, the registered charity that operates Bobby's Hospice and The Hospice Shoppe, a social enterprise that sells donated items. Hamming oversees patient and family care, nursing, food services, music and pet therapies, counselling and education. (She also happens to have a Bayshore connection – before joining the hospice team, she was a Director of Clinical Management.)
"We're very much about compassionate care that celebrates life. We're caring for the living – people aren't just waiting to die," says Hamming. "We've created an environment where they can have exceptional pain and symptom management, and that changes everything. Then we help them celebrate all the things that give them joy."
There is a lot of joy at Bobby's Hospice. It has seen barbecues, concerts, graduations, baptisms and even weddings. "We're nurses, but we're also about helping people live life to the fullest. That's empowering for them, and it has a huge ripple effect," says Hamming. "And because patients get expert symptom management and one-on-one attention, their families aren't anxious anymore. They can spend time with their loved one as a mom or daughter or husband again – they're no longer the caregiver."
Bayshore has long supported Bobby's Hospice, but the relationship took on a new poignancy in 2017, when one of our caregivers became a patient. Peggy, a home support worker at the Saint John branch, had incurable cancer, and she chose hospice care for her end-of-life journey. "Peggy was a beautiful soul and an incredible human being. She had an aura of peace about her, and she loved to laugh," says Hamming, who knew Peggy from her own days at Bayshore. "It's especially rewarding to care for someone who's served as a caregiver their whole life, and to give them the care you'd want for your loved ones."
During the pandemic, many charity walks have gone virtual, including the Hospice Memorial Walk in Saint John, which is planned for September. Bayshore employees continue to be strong supporters. "Bayshore was our first corporate sponsor, back in 2004, and it has continued to be such an incredible partner and champion of our care," says Hamming. "It's great to have a community partner who understands that we're about celebrating life. It really is empowered living, and there's a lot of joy."
To learn more about the 13 hospice and palliative care programs and other charities supported by the Bayshore Foundation, visit our Campaigns page.