Alzheimer Society Peel Receives Bayshore Foundation Support
November 5, 2019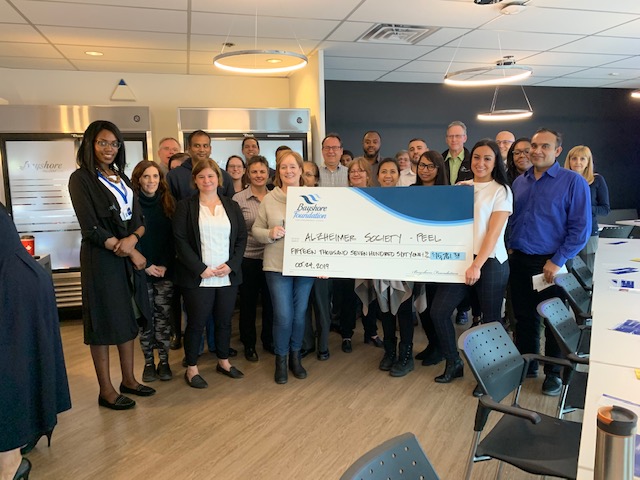 Peel Region, ON – The Alzheimer Society Peel is honoured to be the recipient of the Bayshore Foundation's Power of One program. Through ongoing Bayshore staff support and a corporate match from the Foundation, we received $15,763 for our community programs and services.
"The employees of Bayshore Healthcare are proud to support the Alzheimer Society Peel Region and their incredible work with helping families living with dementia in our community," says John Lawrence, Director of the Bayshore Foundation for Empowered Living. "Our goal in supporting the Alzheimer Society's programs and services is to help people with dementia live more independently."
All monies raised support programs and services in Peel Region that improve quality of life for people living with dementia and their families, and support other activities like counselling, music therapy, education and public awareness.
Alzheimer Society Peel is a person-centred charity, focusing on the individual needs of the people we serve. Programs are designed to provide support to those diagnosed with Alzheimer's and related dementias and their care-partners. From suspected diagnosis to end- of-life, the Alzheimer Society Peel is there. Specifically tailored to the needs of our clients and members, our goal is to provide support, programs and information, while maintaining quality of life.
Upon hearing of the substantial gift from the Bayshore Foundation's Power of One program, CEO Christopher Rawn-Kane remarked, "Thank you for your ongoing support. It means a lot to us knowing that we have wonderful community partners who believe in the work we do. Please extend a thank you to the employees of Bayshore HealthCare's team and the Bayshore Foundation. While donated monies are always special, it is especially nice to know the staff and Foundation believe in the work we do in the community to provide help for today and hope for tomorrow."
For more information on the Bayshore Foundation please go https://bayshorefoundation.ca/
For additional information please contact
Lisa Benedikt | Fund Development Coordinator
647-880-6184