Bayshore Specialty Rx supports Canadian Organization for Rare Disorders with generous donation
April 25, 2023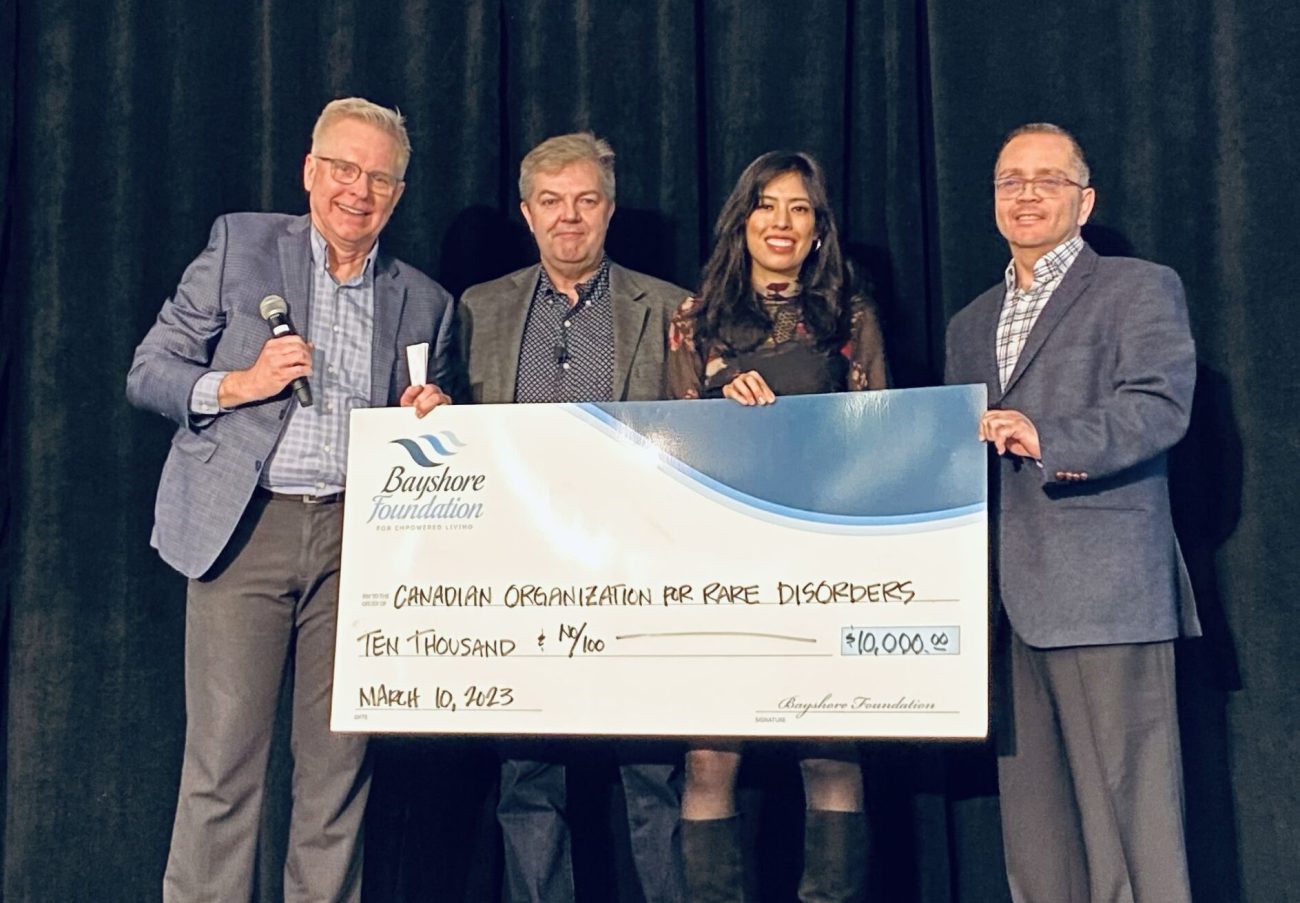 By Michelle Ramos, Communications Coordinator
The Bayshore Foundation for Empowered Living, the charitable arm of Bayshore HealthCare, has donated $10,000 to the Canadian Organization for Rare Disorders (CORD). The donation was made in partnership with Bayshore Specialty Rx to support individuals in Canada who are affected by rare diseases.
According to CORD, one in 12 Canadians are diagnosed with a rare disorder in their lifetime. And approximately three million Canadians and their families face debilitating diseases that severely impact their lives. Although each specific rare condition affects only a small number of individuals, scientific understanding and clinical expertise may be limited and fragmented across the country.
"CORD provides a strong voice to advocate for health policy changes, awareness, and a healthcare system that supports access for those with rare disorders," says Sean McBride, National Director of Commercial Operations, Bayshore Specialty Rx. "From Canada's new Rare Disease Strategy, Bayshore Specialty Rx, alongside stakeholders, advocates for access to specialized and innovative treatments for these patients and their families. We are committed to working with CORD and other stakeholders with a focus on rare disorders to improve the lives of those most affected by rare diseases."
Bayshore Specialty Rx provides a complete ecosystem of healthcare professionals, clinics, nurses, pharmacies, and specialists to support patients and healthcare professionals to simplify the treatment journey for patients. From expertise at the bedside to complex reimbursement navigation and collection of real-world data and advanced analytics,  the Bayshore team reduces the burden on patients, their families and healthcare providers while adding to the body of knowledge about therapies and their impact.
"This partnership with Bayshore will make a difference to Canadians living with rare diseases by promoting research, diagnosis, treatment, and services for all rare disorders in Canada," says Durhane Wong-Rieger, President & CEO, CORD. "We are grateful for their generosity and partnership, and we look forward to working together to improve the lives of Canadians affected by rare disorders."
CORD is committed to implementing Canada's Rare Disease Strategy, which includes:
Screening and diagnosis
Access to specialists and centres of expertise
Access to community support, including patient organizations
Timely access to treatment, research and development, including clinical trials and new technologies
Living with a rare disease can be an isolating experience, with limited treatment options and little public awareness or understanding. With this donation, CORD can continue to advocate for Canadians affected by rare diseases.
"Bayshore believes in giving back to the community and supporting important causes such as rare diseases," says John Lawrence, Director, Bayshore Foundation for Empowered Living. "Bayshore Specialty Rx and CORD are doing important work, and we are proud to support them."
To learn more about CORD, visit: https://www.raredisorders.ca/about-cord/
To support the work of local charities and have your contribution matched by 50% by the Bayshore Foundation, visit: https://bayshorefoundation.ca/campaigns/