Bayshore palliative care nurses make generous donation to children's program in Hamilton
October 17, 2022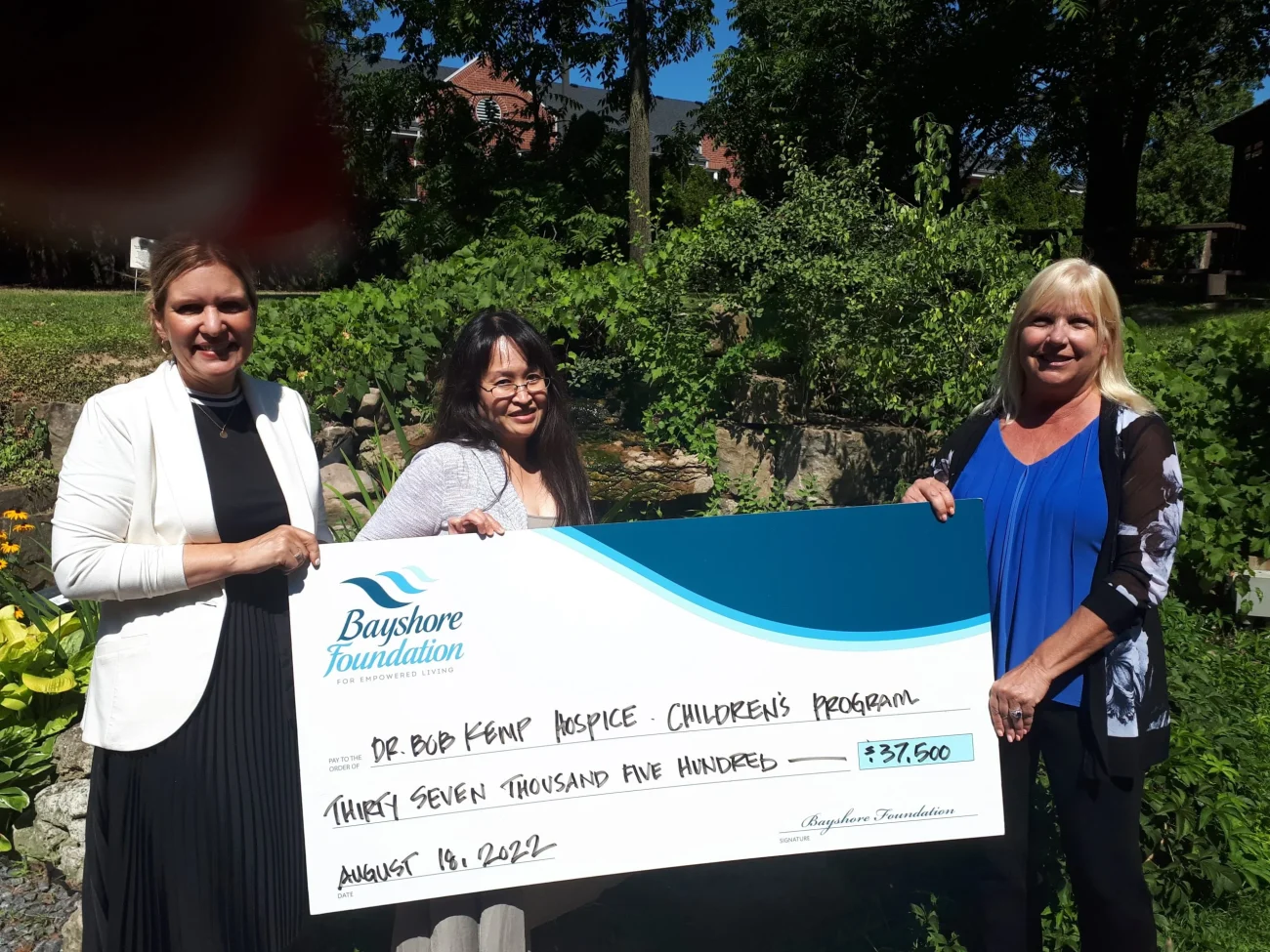 Mui Tran, Zuzana Sarmany, and Lily Hamilton are three of Bayshore HealthCare's palliatively trained registered nurses (RNs) that have been honoured through a recent donation made to the Bayshore Foundation. The $25,000 donation was received through the will of a client's husband, who donated the money to commemorate the outstanding care his wife received several years before.
"It's an honour to receive this donation from the client's family," says John Lawrence, Director of the Bayshore Foundation. "This is a great reminder to our staff of the profound impact their work has on both our clients and their loved ones."
In Hamilton, the palliative care team is made up of 12 palliatively trained RNs and RPNs along with a Manager of Clinical Practice, Client Service Coordinator, Team Lead, Client Services Manager, and Director. Most members of the close-knit team have been with Bayshore for 10 years – and many of them even longer.
"This team really works cohesively to make sure that patients and families receive the quality care that they are needing at end of life," says Megan Powell, Director of Clinical Management at Bayshore Home Care Solutions, Hamilton. "Our palliative nursing team has 'made it work' time and time again and that shows that this is their passion, this is not just a job."
Tran, Sarmany, and Hamilton, along with the entire Palliative Nursing Team and branch management, decided that the donation should go to the Dr. Bob Kemp Hospice in Hamilton, a non-profit organization offering services to patients and families of those living with a progressive, life-limiting illness.
"We really wanted the palliative team to be part of the decision-making," says Powell. "After all, it was because of their hard work and dedication that we were able to receive this donation. As soon as the team heard that we could contribute to funds that would assist with palliative care services for children, it was confirmed with unanimous support from the team."
"We are proud to be a part of the initial support of this much needed resource in our community," says Eva Nemeth, Area Director at Bayshore Home Health in Hamilton. "The Bayshore palliative team and Bob Kemp hospice have a long history of working together collaboratively to provide Hamiltonians with excellent palliative care. We look forward to this new endeavour and opportunities in the future to continue that work."
Bayshore will be supporting the donation through a 50% match of the money donated, bringing the total to $37,500. The funds will help support programming for children's palliative care, including services provided at the new Dr. Bob Kemp children's hospice once it's completed.
"I would like to thank Bayshore Home Care Solutions in Hamilton for their generous gift, which will go directly to the planning and delivery of these game-changing programs," says Danielle Zucchet, Chief Executive Officer of Dr. Bob Kemp Hospice. "As a bereaved mother myself, I can assure you that together, we will change the face of health care in Hamilton for children and families."
To learn more about Bayshore Foundation, or to donate to one of the over 60 charities it supports, please visit: Current campaigns – Bayshore Foundation
To learn more about the Dr. Bob Kemp Hospice and its services, please visit: https://kemphospice.org/