Gilda's Club Simcoe Muskoka
Bayshore Home Health - Barrie, ON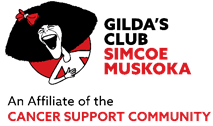 Gilda's Club Simcoe Muskoka, an affiliate of the Cancer Support Community, is dedicated to providing support, education and hope to all people impacted by cancer, family members and friends of those diagnosed, children, and people who have lost someone to cancer.
---
50% Match*
You can increase your impact with a 50% matching donation from the Bayshore Foundation.
If you donate $10 through the Bayshore Foundation, this charity will receive $15. If you donate $20, the charity receives $30, and so on.
*Corporations, Foundations, and other entities do not qualify for matching dollars.
*Maximum $10,000 contribution from the Bayshore Foundation.